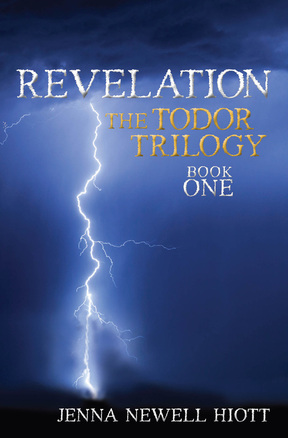 ​
Revelation: The Todor Trilogy, Book One
In paperback, Kindle, and audiobook formats.
In a land where magic was created through the spilling of blood, turmoil is looming. Grief and despair flood the land of Todor, and its creators--the omniscient Deis--consider destroying it altogether. That is, until a single spot of joy attracts their attention: the idyllic village of Aerie. Believing in the hope found there, the Deis give Todor one more chance. They place three infants within this village who are unknowingly tasked with ending Todor's suffering and saving all creation.
As the three chosen ones grow, they discover that their beloved village is a haven of secrets, and nothing is as they believe. Can Gemynd, Soman, and Numa move beyond the secrets of Aerie in order to learn the truth about themselves and the world they thought they knew? With impending war, passionate love, and the heartbreak of separation facing them at every turn, will they do what is required to save Creation?
An imaginative fantasy debut from Jenna Newell Hiott,
Revelation
combines intrigue, passion, and magic to create a mythic tale like no other. The first book in the epic Todor trilogy,
Revelation
introduces readers to a unique fantasy realm--intelligent and layered with hidden truths, it will stay with you long after you've read the last page.
---
---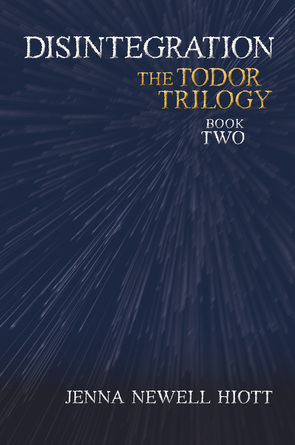 Disintegration: The Todor Trilogy, Book Two
In paperback and Kindle formats.
Aerie has fallen, and the land of Todor is on the brink of war. Famine and decay have touched every corner of the land. If Todor is to survive, Gemynd, Numa and Soman must fully embrace their powers, even as they continue to uncover more secrets and lies. Can Soman survive the aftermath of his role in the destruction of Aerie? Will Numa's love for Gemynd endure even after she sees the horrors of the Iturtian pit? And is Gemynd his father's puppet or his protégé? The betrayals of the past weigh heavy, but can the three move beyond them in order to work for the good of Todor? Or will their inability to forgive propel them into war?
Thundering toward an epic conclusion,
Disintegration
is the second book in the Todor trilogy. In it, author Jenna Newell Hiott paints a stunning portrait of humanity at its rawest, giving a revealing glimpse of how it fares when everything teeters on the brink of destruction.
---
---
Unity: The Todor Trilogy, Book ThreeIn paperback and Kindle formats.

This dramatic final chapter of the Todor Trilogy picks up right where

Disintegration

left off, with Numa, Gemynd, and Soman standing high above a realm on the verge of splintering. The Peace Council has failed, Golath is dead, and the people in Tolnick would already be fighting without Gemynd's mind control. Despite their differences, the trio must find a way to use their magical powers together if there is any hope of moving forward.
Again and again, the childhood bonds of the three are tested. As the new leader of the Iturtians, Gemynd must face his past. Soman struggles with watching the woman he loves devote herself to marriage with his old friend. Numa meets an unexpected family member who will change everything she's known. Peace among the three of them—and among the land's warring races—must be established if Numa's vision of the future is to come true. But she doesn't yet understand the truth of her biggest obstacle, which could defeat her in the end.
In
Unity
, the gritty culmination of a compelling saga, Hiott has delivered an enchanting metaphysical masterpiece. Defining
good
and
bad
proves tricky, and even the Deis couldn't have predicted what's coming next.
---
The Best Ideas Come When You Stop Thinking.
I wasn't even looking for a new book to write when suddenly--blamo!--the entire Todor Trilogy flashed before my eyes. With a degree in history, I had previously focused only on writing historical fiction. (I guess I wanted to make sure my degree was useful for something.) But that day in the kitchen, when I let my mind wander to Todor, all the pieces fell into place. This was the sort of book I was meant to write! After all, I had always been most at-home in the realms of imaginative fantasy and metaphysics. So when my mind was lulled into a meditative state by the simple act of chopping vegetables, the story just came to me.

Todor is a mysterious and magical land, filled with people of great power. It is also a land of deception and segregation. Built upon a controversial document known as The Ten Truths, Todor has become steeped in corruption.

It is up to Numa, Gemynd and Soman--three unique beings with special powers--to save Todor from utter destruction. But they are unaware that they have been chosen for this task.

The Todor Trilogy follows these three as they navigate this world of secrets to embrace their power and discover the truth of who they are.