This post was originally published on 08/15/14 on my spiritual healing website. I am posting it here now as I continue to merge the sites together.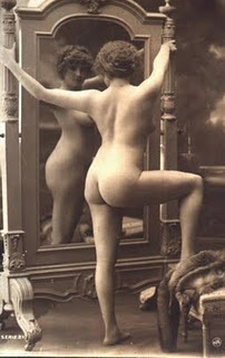 You might have noticed that authenticity is a pretty big deal to me. I've mentioned it a time or two. And if you've been thinking "Who gives a rat's ass?" then this is the blog post for you!

Really, the reasons to support living authentically are infinite, but for now we'll start with a list of three, chosen at random.

Reason #1: The purpose of your existence is to experience life AS YOU.
First, let me be clear about one thing: If you are alive right now (and it's safe to assume you are if you are reading this), then you are already living your purpose. You're doing it right. You can't screw this up. Good job!

However, you can be MORE alive, if you want to. You can be MORE fulfilled, MORE joyful, MORE peaceful, all just by being MORE you. The key, really, is to get to know yourself. Authenticity and knowing oneself have an interesting relationship. You can't be authentic until you know yourself and you can't know yourself unless you are being authentic. It's a paradox, and that's great news! Anytime you encounter a paradox, get really excited because it's a big, giant neon sign saying that the Divine is speaking to you. In this case, it's saying, "Yep. Go there. Be real while getting to know yourself. You'll be glad you did."

You are the only one who has your perception of life. THE ONLY ONE. While it is true that there really is only One and separation does not exist, the Divine has given each of us a unique gift; a tool through which we perceive our lives. And there are no two of these tools alike. This perception tool is what makes me, me, and what makes you, you.

So, to live life to the fullest, you must BE YOU TO THE FULLEST.

Reason #2: It makes relationships better.
Again, I'll begin this one with some clarification. When I was first thinking about writing this post, I was curious what the interwebs had to say about authenticity, so I googled it. Everything that came up was about business and politics, and the consensus seemed to be: authenticity matters because people can see right through phoniness. You will lose customers and voters if you are less than authentic. In other words, the general advice was, "Be authentic so that others will like you."

WHAT???

Oh, irony, how I love thee. You always bring a smile to my face.

Perhaps this is a good time to explore the meaning of the word 'authenticity.' (Strap in, you're about to have a hair-raising experience in etymology.) 'Authenticity' comes to us from the Greek word 'authentes', which means 'one who acts on his own authority.' It can be broken down into 'autos', meaning 'self', and 'hentes', meaning 'being' = 'being the self.' Basically this means, if you are being yourself and acting on your own authority, you are being authentic.

If you are behaving in any particular way for the purpose of having others like you, then you are not acting on your own authority, rather you are acting on their authority. This does not match the meaning of authenticity. The political advice columnists may want to re-think their strategy. That's merely my opinion, though.

All of that being said, people liking you may very well be a side-effect of becoming truly authentic. But the REAL reason authentic living benefits relationships is all about you. When you become authentic, your boundaries become clear. You will no longer blame others for crossing a line that you had not defined in the first place. You will know what you want and how to ask for it. Resentments (the poison of many relationships) vanish. Trust and security builds, because, above all, you learn to trust yourself.

Reason #3: It keeps you healthy.
I feel like we're at a point now where we can all agree that our physical bodies respond to our thoughts and beliefs. We pretty much all accept that stress can be harmful to our bodies. A stressful, anxiety-ridden thought can cause a cascade of hormonal responses in our bodies. Responses that can make us sick.

I have worked with many people over the years who have come to me with varied physical conditions that they want healed. What I have found in nearly all cases is that at the root of physical suffering is some form of self-loathing. I'm using the term 'self-loathing' in a very broad sense. For example, self-loathing can be a lack of self-trust and this can lead to a fear of failure, which can lead to stagnancy, weight gain and, ultimately diabetes. And while we're on the subject of trusting oneself, did you know that self-trust is an essential ingredient in healing an addiction? Self-loathing can also come in the form of judgement. It's true that we are our own worst critics. We tend to judge ourselves harshly for every little thing. "You shouldn't eat that." "You know you'll never follow through." "You could have worked harder." "You're not worthy of that." And the all-too-common: "Who do you think you are?" These are judgements and can keep us locked in a cycle of self-loathing. Pay attention to the way you talk to yourself. Listen to the words you use. Then practice releasing your self-judgements and letting yourself be.

Self-loathing can also look like depression, guilt, anxiety, etc. All of which can take a toll on the body. Self-loathing can also be much more insidious, hiding in the shadows of our subconscious minds within beliefs we'd rather not see. Along these lines, I have had clients who subconsciously identified with their abusers, causing such deep self-loathing that they made choices to deliberately harm their bodies.

One natural outcome of living authentically is genuine self-acceptance and self-love. When you wholly embrace who you are, as you are right now, a surge of power rushes into every cell of your body. If you pay attention, you can actually feel your cells vibrate with this power. It comes into you that way because when you choose acceptance, you automatically release resistance. You open up to accept this power. This power is love (yes, it's a hippy thing to say, but it's true) and it's the most healing force in the universe.

To get started, practice declaring yourself. Say, out loud, something like, "This is me. Every stretch mark, dimple, harsh word, sarcastic comment, brilliant insight, creative genius, musical laugh, etc. is me. And it is all great!" Of course, fill it in with your own traits, because this is about YOU and your journey to self-love and authenticity. Have fun!