This post was originally published on 09/04/14 on my spiritual healing website. I am posting it here now as I continue to merge the sites together.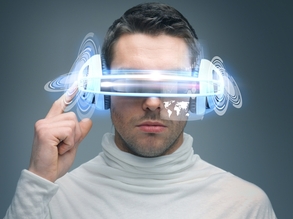 The ego gets a bum rap. It is either completely dismissed, as in "That's just her ego talking" or, more often, it's treated like a monstrous, slimy, fire-breathing, villain of a 1950s horror movie, leaving nothing but pain and destruction in its wake. Cue screams. "Everyone run for your lives! It's the EGO!" And then sometimes, despite its otherwise fearsome nature, the ego is looked at as something breakable, something we must be very, very careful with, as in "You might hurt his fragile male ego."

So what the hell is this strange, seemingly paradoxical entity?

First of all, the word 'ego' is just the Latin word for 'I'. As far as the ego being a concept related to the self, the origins probably go way back before written history. Most Eastern spiritual traditions contain teachings on something related to the ego, so we can safely assume that the idea has been around for a very long time.

Sigmund Freud famously incorporated the ego into studies in psychology in the late 19th century. His idea of the ego was the part of the mind that mediates between the id (animal nature/passions) and superego (the goody, goody part of the mind that's all about morals, ethics and philanthropy). About the ego, he said it "strives to harmonize the inner and outer." That's very nice, Sig. Practically poetic.

Carl Jung included the ego in his work, too, and, according to him, the ego simply represents the conscious mind.

Nowadays, it seems the ego is sometimes synonymous with self-esteem.

From this mix of spiritual traditions and psychology came many modern definitions of ego such as "The ego is an identity of our own construction, an identity which is false." (The Spiritual Science Research Foundation) And another, "Ego means considering oneself separate from God." (Pathways to Happiness)

I also found definitions of 'ego' from a couple of my favorite modern mystics:

"The ego is our self-image, not our true self." --Deepak Chopra

"One way to think about ego is as a protective heavy shell, such as the kind some animals have, like a big beetle. This protective shell works like armor to cut you off from other people and the outside world. What I mean by shell is a sense of separation: Here's me and there's the rest of the universe and other people." --Eckhart Tolle

Based on those definitions, it's no wonder we view the ego as this mysterious thing that must be either ignored, conquered or transcended! It causes us to be false, keeps us separate from God, and makes us look like a bug! What's to love about that???

Now, let me be very clear here: The ancient teachings, the work of Deepak and Eckhart (and many others) are sacred and true, and I view them with the utmost respect and reverence. This idea of separating our so-called 'true' nature from our baser selves is extremely useful and necessary in getting us to a point where we are aware that we are not our thoughts. Or, more specifically, that we can choose our thoughts.

But, I propose that it's time for us to stop villainizing, and START LOVING, THE EGO!

First of all, I believe in oneness. There really is only one. There is no separation. This means that EVERYTHING is God. The good, the bad, the ugly. It's all God. Flowers are God and so is poop. The word 'spirit' is God and so is the word 'fuck.' Your soul is God and, yes, so is your ego.

Here's the way I see it:

The ego is a wonderful, amazing, beautiful and NECESSARY part of the oneness that is you (and me). It is the fascinating tool through which we get to experience our lives. I like to think of it as a sort of lens. Our soul--our Divine, creative nature--looks through this lens to perceive life. In fact, I'm thinking of changing the name from 'ego' to 'percego' (pronounced purse-ee-go). What do you think?

Let's say that one day, this soul—this God stuff—decides it wants to have an experience of being alive as me. So it goes to the percego library and checks out the lens called Jenna. This particular percego contains the entire belief system of Jenna. The soul then gets comfy in its soul recliner and puts the lens on. Presto! The soul is now living life as me. The soul perceives my body, my home, my family. It perceives my thoughts and emotions; my judgements, my desires and preferences. Everything that I believe to be real, is real because the soul is viewing it through the Jenna percego.

Now, what do you think would happen if the soul decided to ignore or destroy that percego? The perception of life as me would be over. Gonzo.

When you think of it like that, doesn't it make more sense to celebrate the ego? To wrap your arms around it and love the crap out of it?

The God stuff wants to experience life as you. Trust me, it wouldn't have chosen YOUR percego if it didn't want to know life through YOUR beliefs. So, as I have said many times before, you are already doing it exactly right. You are already perfect. There is no part of you that is an adversary or needs fixing. Your ego is not an entity to be destroyed, ignored, triumphed over or transcended. It is necessary for having an experience of life.

It can, however, be changed. IF YOU CHOOSE. If you don't like the way you perceive something, you can change it. And then you can change it back. Or change it to something else.

But for Pete's sake, let the love in! One of the beautiful things that happens when you start seeing your own ego for what it is—and loving it unconditionally—is that you begin to see others in a whole new light. You become fascinated by their percegos, less quick to judge or feel hurt by their words or actions. You start to marvel at the differences from one percego to another, rather than act on a need for everyone to be the same.

Right now, before you do another thing, make this your mantra for today:

"My ego is the greatest thing ever! I love it with all my heart!"

Yes, cheesy can be fun! Give it a try!