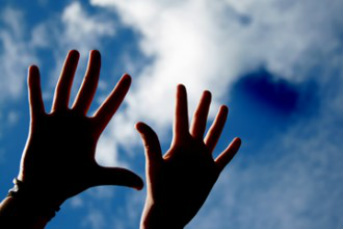 Neurotic
.
I have emetophobia, the fear of vomiting
.
It's not just a natural aversion to vomiting, but a diagnosed, irrational fear of it that is absolutely terrifying. It is not hyperbole when I say that I would rather die than throw up. And being around others who are nauseous and/or vomiting induces instantaneous panic within my being. Needless to say, this lovely little phobia has added a whole new challenge to motherhood. I also have claustrophobia and a strange, irrational fear of centipedes. Neurotic? Yes. But on the positive side of my health-related weirdness, I seem to be immune to athlete's foot. Oh, and I can't burp.
Vulgar (but funny)
.
I have a filthy sense of humor
.
More accurately, I have a vast, borderless sense of humor. I have no rules when it comes to what I will or won't make fun of, and I will laugh at absolutely anything. Really, anything. Nothing is too sacred, taboo, or off-limits for me to crack a joke. I believe with my whole heart that life is meant to be funny…every dirty, disgusting part of it.
Creepy
.
I am intrigued by the really dark side of life
. Serial killers, torturers etc. fascinate me. The idea of killing—especially another human—for enjoyment is such a puzzle to me that I feel drawn to figure it out. What thoughts must a person have to make him/her cross that line? It also fascinates me because I believe in oneness. I believe that there is only one, and everything is Divine. There are no exceptions. This means that even acts of violence against children are not separate from God, but are still part of the Divine one. It is a wonder to me to walk the path of embracing and living that truth.
Geeky
.
I am a certified genealogist
. Here is where I let my nerd flag fly with abandon. I get lit up and turned on by the hunt for information. Genealogical research is like my version of cocaine. It is stimulating and euphoric and oh-so-addictive. I had to stop doing it professionally because it had become an obsession. But, at the same time, I revere and honor my ancestors, and all those humans who came before me, so I allow myself a couple hours a month to indulge in researching their lives. Truthfully, I am probably even more passionate about archeology. It's like genealogy on steroids. It has the same blissful hunt as genealogy, but you get to experience the find with all your senses.
Perceptive
.
I write fiction by first watching the movie version in my head
.
Sometimes it almost feels like cheating, but I don't put any effort into coming up with plots or characters. All my effort just goes into getting very quiet and still, and then watching (and transcribing) the mind-movie that plays out before me. Sometimes I will have to pause the movie to ask the characters a question or two. And sometimes the characters will pause the movie and say something like, "Just kidding. That whole last scene didn't really happen that way. So just toss out those last two hours of work and we'll show you how it really happened." When they do that, I'm reminded that my characters are basically dickheads.
Determined
.
I healed myself of a terminal illness
. By all accounts in the medical community, I should have died in 2006. My liver shut down, my pancreas quit, and I lost 60 pounds in three weeks (see the first interesting thing above to get an idea of how unpleasant this experience was for me.) Despite subjecting my body to every available test, no one could figure out why it was happening. I will never forget the look on my doctor's face when she told me, "We don't know what is causing your organ failure and we don't know how to fix it. Go home. Get comfortable. If the discomfort gets too bad, call 911. Otherwise, just love your family as much as you can." When I got home that day, I was filled with despair. When I reached the bottom of the very darkest place I could go, I heard a clear voice speak to me. It said, "You have a choice. You can choose to die or you can choose to heal yourself." It was a moment of pure empowerment. I was reminded that, no matter the situation, my power of choice could not be taken away. And I chose to heal. Out of that choice came a life dedicated to wholeness and empowerment; to authenticity and joy. What began as my darkest moment ended up being the best thing I ever endured.
New-agey.
I have a team of spirit guides
. When I chose to heal from the mystery illness, the only place I knew to turn to was my spirituality. I had always been a spiritual person. At a young age, I veered away from my Christian upbringing to learn what I could from all religions and forge my own path. But when my life was suddenly on the line, my relationship with the Divine became my top priority. I spent many hours in deep meditation, learning the feel of my own energy and the way that I receive guidance. Through this practice, I met my spirit guides. I've got a team of five who are always with me. (Guess what. You have a team of spirit guides too.)
Just plain weird
.
I remember many of my past lives
. I first became interested in past life regression therapy many years ago when I was having recurring nightmares and wanted answers. Then, as my life path moved towards spiritual healing, I learned how to open up to these memories on my own. I have healed many things through this remembering, but I think the biggest benefit is that it's really helped me to be less self-critical. It's easy to see how far you've come and how great you're doing in this life when you remember that you used to be an axe murderer. (As a side note: I don't actually believe in past lives, because I don't believe in the existence of time outside of our perception of it. I believe all of our life experiences occur at exactly the same 'time.' But I use the term 'past lives' for ease of communication.)
Empathic
.
I read chakras
. One of the first things I learned about myself when I started on my healing journey was that I am extremely sensitive to others' energy. Actually, most people are but some don't realize it, just like I didn't until I got sick. I had to learn to distinguish between my own energy and the energy of others. Before that, I often thought I had just suddenly become pissed-off, or sad, for no reason. I didn't realize that I was simply feeling someone else's emotions. Through this process of learning to discern energies, I gained the new skill of being able to 'read' others' energies, especially in the energy centers called the chakras. This has become one of my signature healing techniques in working with clients. And that segues perfectly to the 10th interesting thing about me:
Connected
.
I'm a spiritual healer
. If you've read the other 9 interesting things, then, first of all, you are amazingly dedicated and my new best friend, and, secondly, you are probably already aware of this 10th interesting thing. When I learned how to heal myself, I knew it was a gift I needed to share with others. So I did. I became certified in both Thetahealing and Sacred Contracts, but in perfect Jenna style, I've made the teachings my own. My focus in working with clients is almost always about guiding them to authenticity and self-love. One of my favorite phrases is, "If you're an asshole, be an asshole." Healing, on all levels, comes from a place of radical self-acceptance. (And you might just find this message permeates my writing too.)