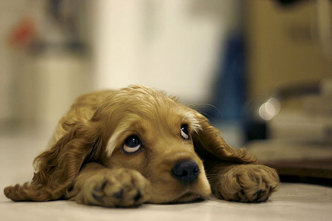 For the
GoodReads 'Ask an Author' program
, I was recently asked, "How do you deal with writer's block" This is how I answered:
In a nutshell? I think writer's block is bullshit. Just like any other skill we've learned, we don't just wake up one day and find we've unlearned how to write. Unless you've had a stroke, you can still put words on paper, right? It's not that we become blocked from writing, it's that we become paralyzed by judgment. We become afraid that if we write something, it will be so awful that we will spend eternity paying for the sin of subjecting our readers to the repugnant abomination of our words.
And just who is this dickhole that would pass such severe judgment upon us? Some people like to call it the 'inner critic', but I prefer the more descriptive moniker of 'inner asshole'. When I think of critics, I think of people who are paid to give their professional opinions on something. Yes, sometimes their opinions are negative, but sometimes they are very positive. Furthermore, sometimes the criticism they give is actually helpful.
I've never known my inner critic to be positive nor helpful. She enjoys doing things like waking me up in the middle of the night to tell me that the work I just published for the world to see is unadulterated crap. Or, while I spend an entire day writing a chapter, she'll peer over my shoulder and whisper-read the whole thing, then ask me, "Do you even know your characters at all?" One of her favorite phrases is, "Basically, you suck at this." And if I've received positive reviews on something that even she can't deny is good, she'll throw something like this into the mix, "You're probably just a one-hit wonder."
She's an asshole. But you know what? She's okay with that. Over the years, I've learned to be okay with it too. And I believe that is the secret to not becoming paralyzed by her judgments.
Have you ever come home from a long day at work to find that your dog has spread the garbage throughout the entire house? For your entire commute home, you'd been fantasizing about putting on sweats, ordering pizza and spending the evening in a vegetative state on the couch. But as you look at the godforsaken mess before you now, those marvelous plans dissolve. Now you must clean instead. Your damn dog doesn't have thumbs, so you can't make her do it.
At this juncture, a wise person would simply sigh, then spend the next fifteen to twenty minutes cleaning before resuming the desired sweats/pizza/couch plans. However, few of us are this wise. Nope. Most of us become toddlers when our plans are altered and we react by having an all-out tantrum. First we glare at the dog (who is likely already cowering in the corner), then scream, "What the fuck did you do?!" (As if it isn't painfully obvious what the dog did.) Then we make fists and march angrily toward the dog, whose head is tucked so far down it nearly disappears into the carpet.
But in our decision to get caught up in all the angst, and our refusal to accept that our plans have changed, we forget that there are grease smears and banana peels strewn across the floor. Our angry march suddenly becomes a gymnastics extravaganza. Arms, legs, and body parts we didn't know we had, careen through the air, tumbling one over the other, until we come to a gravity-defying, headstand-esque stop. Our bodies balance strangely above us like an upside down bowling pin; our faces pressed into last month's putrefying meatloaf.
What does this delightful scenario have to do with writer's block? They both have the same solution: Acceptance.
If you accept that your plans have changed and just clean up the mess, your butt will be on the couch in no time. If you accept that your inner critic says everything in a mean way, you can just thank her for her guidance then make your own decisions. It is when we resist what is happening that anxiety takes over. And anxiety is the real paralyzing factor. Don't fight your inner critic and don't ignore her. Just accept her, and know that she isn't the boss of you. She cannot stop you from putting words on paper (and that is what makes you a writer).
The bottom line is this: just write. Accept that your inner critic will judge your work, then decide to write anyway.
Most importantly, remember that your inner critic is an asshole. And so is your dog.