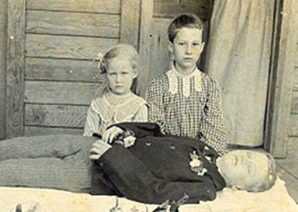 As promised, no spoilers
, so don't let your imagination run wild and make you think you know why I'm writing on this topic. You don't know why. You can't piece it together. You don't even know which part of the trilogy I'm working on so there's absolutely no way whatsoever that you could call the following a spoiler…
My writing today has me thinking a lot about death rituals. Every culture throughout history had their own unique spin on what to do with dead human bodies. It seems like it was generally known that not leaving them to decompose around the campsite was a good idea. Evidence of burials of humans and neanderthals goes back more than 200,000 years. And for those cultures not keen on putting their dead underground, we have mummification and cremation. Yeah, interesting stuff.
But what'll really get the mind spinning is to ask: Why? Most other animal species—predator and prey alike—do little to nothing with their dead. I'm not a zoologist, but I think there may be some evidence that greater primates and elephants perform rituals for their dead; a sort of send-off ceremony. They don't, however, bury, mummify or cremate the bodies. The answer is not sedentation either, because human burials were taking place long before people became sedentary. In short, I don't know the answer, but it's fascinating to ponder.
And ponder I will. While pondering all of this, I remembered a story my grandmother once told me that piqued my morbid curiosity at a young age and stayed with me all of my life. As a child, my grandmother lived in the far northeastern corner of New Mexico, which is technically part of the great plains region and, in the 1930s, was part of the dust bowl. It was rough living and every farmer in the area struggled to get by. In order to survive, they had to help each other. And one of the ways they did this was to take care of one another's dead.
My grandmother vividly recalled two such occasions when her family was called upon to help. There was a teenaged boy from a nearby farm who had fallen from a horse and died when his head was crushed between a horse hoof and a rock. His head was smashed so badly that there was nothing recognizable left. On top of that, it was mid-summer and the heat would not allow for the customary 3-day wait before burial. So, my grandmother's father generously donated a half-acre of his land to become the new cemetery and that boy was the first interment.
A few short months later, a young neighbor girl died from influenza. The mother of the girl was so distraught that she could not bear to look at her daughter's dead body. My grandmother's family again offered to help and took the little girl's body to wait the three days until burial. They laid the corpse on their kitchen table and there the little stayed until the day she was buried.
What struck me the most when my grandmother told me this tale was how at ease she and my great-grandparents had been with the whole thing. For them, death and the dead were simply a part of life. For as twisted and sinister as my wacky imagination can be, I can't for the life of me imagine being so calm and accepting about having a dead girl on my kitchen table for three days!
I would LOVE to hear stories from you about death rituals. Whether it's something you read or something your crazy family did, let me know in the comments below!